Judy Albright - Publisher
Elizabeth Davis - Editor
december 2021
Rev. Andy Nagy-Benson

Dear Church,
I love the season of Advent for its reminder that preparation is a key to the spiritual life. Prepare the way of the Lord. Isaiah says it. John the Baptist says it. The ragtag bunch of Jesus' followers show it on Palm Sunday.
We hear the urgent cry—Prepare the way of the Lord—more often during Advent than at any other time of the year. "Prepare the way" is such a common Advent refrain that it can be hard to hear its extraordinary claim: we are invited to participate in the arrival of Christ.
To prepare the way of the Lord is to expect the miracle of incarnation. And to watch for embodiments of love in the land of the living. And to make more room for wonder in our lives. And to make Christ known to others by our living.
Advent preparations—it's how we wait. We wait with hope, peace, joy, and love. We wait for hope, peace, joy, and love. Our sacred stories are full of people waiting for such graces. Waiting to reach the Promised Land. Waiting for the exile to be over. Waiting for peace to make its home in Jerusalem. Waiting for a Savior, who is the Messiah, the Lord.
The process of preparation is the heart of the celebration. God bless your four-candle journey and your Christmas joy.
With love,
Pastor Andy
HIGHLIGHTS FROM THE November 10, 2021
CHURCH COUNCIL MEETING
There were sixteen church members present for this meeting. We listened to reports from the Treasurer, from Pastor Andy, and from the Chairs of our Church Boards.
Katy Smith Abbot explained that we needed to adjust the goal for the Retire the Debt Campaign that we are starting. After some discussion, Council approved setting the goal at $450,000 for this campaign.
We had a short discussion of the columbarium project, which is going to be voted on this month.
We approved the job descriptions for the Building Manager position and for the newly created Music Administrator position.
We went in to Executive Session for over an hour for the annual review of everyone on the church staff. After doing this, Council made a motion to applaud the continuing excellent work of all employees, especially with the ongoing difficulties of the pandemic. We recommended a cost-of-living increase in their compensation, as well as a merit increase, if our 2022 budget permits that to happen. We gratefully acknowledged Pastor Andy's leadership, his inspiration, and his devotion to our church and its members. We thanked all employees and our two pastors for their continuing very effective work and dedication.
We had a discussion of the requirement in our bylaws that all board members be church members or associate members. It was late, and while there was a good discussion of this, no decision was made. We will bring it up again at a future meeting.
All Council members have the full minutes. Please contact any of us with any questions or comments.
Nancy Foster, Church Clerk
After worship on Sunday, November 21st, there were enough folks gathered for the congregational meeting that we had a quorum. We were voting on whether or not to build a 110-unit columbarium in what is now called the Circle Garden, between Unity Hall and the sanctuary. We had tried to do this by zoom last spring, but just as we were ready to take the vote, we lost our quorum.
For the two previous Sundays, we had information sessions scheduled, for questions and discussion. The second one was well attended and featured a presentation by Larry Jones about a possible Memorial Garden.
So, this past Sunday, November 21st, after a bit more than two years of COVID interrupted research, the vote was resoundingly in favor of going ahead with the columbarium. Initially we will build 110 units, and be able to eventually expand to 270. Each unit can hold the ashes of one or two people.
We hope to be able to break ground in the spring, with completion by early summer.
If you have any questions, or would like to reserve a niche, please contact Elise Blair, Pat Chase, Carol Campbell, or Margaret Carothers.
the season of advent
Jennifer Smith, Director of CHILDREN and Youth Ministries
And just like that . . . Advent is here! As we move into this time of waiting and preparation, I can't help but be overjoyed with the fact that we can celebrate this holy season in our sanctuary. On December 5, you will witness the Confirmation Class lighting the Advent candles, and on December 19 you will get to see the Children's Christmas Pageant! A special time each year when we retell the beautiful story of Jesus' birth and the importance of his life here on Earth with us. I hope that you will join us in person or watch from home online. As with everything now, it will be different than years past but still just as meaningful.

I would like to thank Stacia Greene for stepping up and offering to fill in for May Poduschnick in the Pre-K/K classroom. Stacia has a gracious heart and an easy way with the children; we are blessed to have her on our team!
Helping Others and growing in faith

The Junior Youth Group has been very busy serving the church and our community. First, they helped at the Holiday Bazaar, then they made Christmas cards for the Board of Pastoral Care's gift baskets, and last but not least, they helped collect food for HOPE at our annual Thanksgiving food drive! This is a joyful group of young people to work with.




Members of the Confirmation Class have been meeting individually with their mentors over the past two months. We will meet on December 12 with their mentors to discuss our faith journeys. I appreciate the willingness, generosity, and dedication of the following mentors: Judy Albright, Dan Brown, John Emerson, Lois Farnham, Steve Jewett, Cindy Marshall, and Paige Russell. These programs only work because of those willing to volunteer, so thank you!



Ben and Courtney Krahn; Marilyn Sandoval Nulsen and David Nulsen; Lorrie Muller; Mary Jane Washburn; and Bill Thurber
Monday evenings Adult Study:
Advent songs of Waiting - December 6 and 13, 7 p.m. on Zoom
The word "Advent" comes from a Latin term for "coming" or "arrival." Traditionally, Christians have observed the season of Advent (the four weeks before Christmas) as a time of waiting for the coming of Christ. This season of waiting re-creates the anticipation of Christ's first coming, it prepares us for an experience of renewal in Christ in our moment, and it looks expectantly toward a world that one day conforms to Christ's ethic of love and peace, what Christians traditionally called the coming "Kingdom of God." With attention to the past, present, and future, Advent is a time for waiting.
These days, many of us find ourselves waiting desperately for the arrival of something different: the return to normality. We long for the days when we could live—and live together as church—free of the anxieties and restrictions brought on by the pandemic. Normally our Advent waiting is hopeful and joyous, as we count down the days until Christmas. These days, many of us struggle to maintain hope and joy in a period of waiting that feels like it will never end.
What can Advent waiting teach us about pandemic waiting? Are there ways that "doubling down" on Advent might actually help us endure the other stuff? On two successive Mondays, December 6 and 13 ( at 7 p.m. on Zoom), I invite you to a conversation about how these two experiences, Advent waiting for Christ and pandemic waiting, might be related.
To stimulate our thinking, we will focus on the words to some cherished Advent hymns. The beautiful lyrics of these songs may capture what we've been through and what many of us are feeling these days. Perhaps these same lyrics, which we often sing without much reflection, may also bring us new strength and hope this Advent, as we wait for the pandemic to end. Mark your calendars; I hope to have you with us for this conversation.
James C. Davis
Theologian-in-Residence
Advent and Christmas Events

GivePlus Mobile will be retiring January 2022. Vanco Mobile is the app you can download to give to the church through your smartphones going forward! The same Login should work.
We currently have 69% participation in the 2022 pledge campaign, moving slowly toward our goal of 100%.
Thank you to those who have already pledged. Members of the Budget and Stewardship Committee will begin contacting folks that we haven't heard from, starting on December 1. Anyone who wishes can email a pledge amount to Irene and Cathy at treasurer@midducc.org.
Did you know?





A bequest of $10,000 made to the endowment today could grow to more than $32,000 in just 20 years.






A climate update from the green team
As you may know, the Green Team is working diligently to complete our application to become a Creation Justice Church, which cements our congregation's commitment to caring for God's glorious creation in the face of climate change. One of the remaining areas of focus for both the application and for our congregation going forward is creating a Circle of Awareness and Advocacy, in which we inform ourselves about environmental justice issues at the local, state, national, and/or global levels and take action based on that awareness.
As you may also be aware, in 2020, the Vermont state legislature passed the Global Warming Solutions Act, a law that requires our state to cut greenhouse gas emissions by 80% by 2050—including a 26% reduction by 2025 (just 4 years away!)—and requires that the state achieve net zero carbon emissions by 2050. ("Net zero" means any manmade greenhouse gas emissions that are produced must be removed from the atmosphere.) The Act also has a social justice aspect, requiring that the state improve access for rural and marginalized communities to clean energy, transportation, heating, and housing. Soon after the bill was passed, the state appointed the Vermont Climate Council to create a Climate Action Plan, a roadmap for how we will meet these targets. This fall, the Vermont Climate Council held a series of in-person and virtual public forums to encourage the public to give feedback on the initial draft of the plan. The revised plan is scheduled to be released to the public on December 1, after which the legislature will decide how to move forward to make their plans a reality.
The Global Warming Solutions Act will affect the life of every person in this congregation, particularly when it comes to how we get from place to place and how we power and heat our homes, and all Vermonters—all of us—need to be engaged as the Plan moves forward. The Green Team will be considering how we might respond as a community of faith on this crucial issue, and we will keep you informed about what's happening, how it may affect your life, and how you can make your voice heard.
Interested in becoming a member of the Green Team to help in this important work? Please join us at our next Zoom meeting, on Monday, December 13, at 7:00. Email Su Reid-St. John or Leanna Maglienti for the link.
Precious Gifts
Jessica Allen, Director of Music
It's usually right around mid-November when Jeff Buettner and I have an annual conversation about how we would like time to slow down. It's like we are speeding toward our daughter's next birthday, Thanksgiving, Advent, our wedding anniversary, and Christmas all too quickly. We want to stop and savor every second and not have it seem to run away without us.
While I know the holiday season can feel busy for most anyone, it is high season for church musicians. And when you have two in one household, time to stop and just be together (outside of work!) is hard to come by. I can tell you from my now twenty years of experience conducting church choirs, that peace comes after Christmas.
As a result of my work, I have needed to adjust my expectations of what this season holds for me. I've needed to do more taking in of the seemingly small moments—a growing child jumping around home, hair suspended in the air, unable to contain birthday excitement, the close purr of a much-beloved cat spending more time indoors as the weather turns colder, the perfectly smooth and icy glaze on a homemade ginger cookie that makes the design underneath pop (not to forget the spicy fragrance and rich flavor), the sound of voices tuning together to create sonic beauty that seems so fresh and like a precious gift right now, the knowledge that I love deeply and I am loved.
I hope to acknowledge more of the ordinary this season. And then, after Christmas, to bask in the wonder and stillness of all that has occurred in community and love.
Caroling, Caroling! All are welcome to join us for carol singing on the front steps of the church Saturday, December 4 at 10:00 AM led by Jessica Allen. Refreshments will be provided by the Board of Christian Development. Free!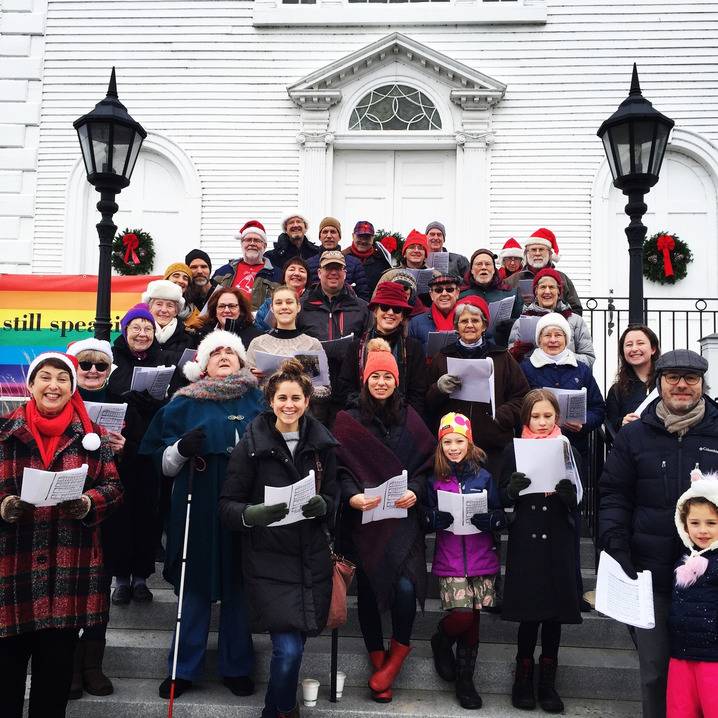 Thank you, thank you, thank you!!
It's with gratitude and joy that we can announce that the 2021 Holiday Bazaar raised $10,000 . . . and counting!
The weather could not have been more beautiful (prayers work!), and comments from shoppers were overwhelmingly positive. These uncertain times posed challenges in planning and executing this event; however, after 97 years, the community's support for an in-person Holiday Bazaar is still alive and well.
Almost 50 volunteers worked diligently to organize a spacious and comfortable shopping experience, with everyone in the building masked. We are thankful for these amazing volunteers who put their energy and best talents to work. A constant stream of shoppers flowed (masked) through our doors, happy and full of compliments. The one complaint we heard most often was the parking spaces were full! We are grateful that everything worked so well, and everyone had fun.
There are so many people to thank! You who took a leap of faith and participated to make this Bazaar successful--the amazing table and room chairpersons, our generous donors and workers, and of course the super shoppers.
What's next? Ruth and Judy have emailed an online survey to collect volunteer workers' feedback. The Bazaar wrap-up meeting is planned for Sunday, December 5, at 7:00 p.m. on Zoom, when the individual table and room final tallies will be shared by our wonderful Bazaar treasurer Katharine Scribner. The entire Bazaar Committee greatly appreciates all this year's donors and the volunteers who made this a fun community event! It's not too early to let Ruth and Judy know your input for Holiday Bazaar 2022.
The 2021 Holiday Bazaar Committee, co-chairs Judy Jessup and Ruth Penfield
Who was Rev. Albert Webster Dickens?
With the study of the life of Rev. Albert Webster Dickens and his family this month, we will have discussed the lives of eleven pastors and their families. These biographies cover the settled pastors who served from 1790 to 1900. During this period there were also several ministers that have not been examined. Between the tenures of each settled minister, inevitably a period of a few months (maybe longer) existed in which several guest preachers led worship on Sunday mornings. We do not have a record of each and every guest minister; however, several were mentioned in history of the church written by Stephen Freeman.
As an example, the Manual of the Congregational Church, Middlebury, VT of December 16, 1875 stated the following: Mr. John Barnet was called to become pastor, June 15, 1790. As a step preparatory to the ordination of the pastor, six months previous to the admission of the State into the Union, September 5, 1790, the Congregational Church of Middlebury was organized, consisting of twelve members, seven males and five females. Mr. John Barnet was ordained November 11 of the same year. There was no minister of any denomination at this time in western Vermont, between Middlebury and the Canadian border. After Mr. Barnet's dismissal on March 31, 1795, he continued to reside in town and to preach as a supply for nearly two years. Shortly after that, he returned to CT. From 1798, three other men were invited to be the settled pastor, but to no avail. President Atwater of Middlebury College preached two or three years for the church. On December 19, 1805, Thomas A. Merrill, who had been preaching for the church for several months in connection with his duties as a tutor at the college was ordained in the midst of a revival.
Rev. Albert W. Dickens served The Congregational Church of Middlebury from 1893 to 1900. He came to Middlebury from a Congregational church in Ticonderoga, NY. He resigned his pastorate on October 14, 1900, but continued to reside in Middlebury and remained a member of the church and the community, frequently acting as moderator for the society and practicing law until he died in 1926. Tomas Simms accepted the pastorate in February 5, 1901, leaving a gap of only three months.
PARENTS: Rev. William Dickens (of Middletown, CT) married Nancy Cross (of Berlin, CT) on 21 Oct 1839 in Berlin, CT. They had two sons: Andrew Jay Dickens (born 1845) and Albert Webster Dickens (born 1852). Census records revealed no further information on Nancy Cross after 1855. A reasonable assumption is that the mother died around 1855–1860 and the sons (Andrew and Albert) moved in with relatives. Beginning in 1860, according to federal census records, Andrew (oldest son), Albert (youngest son), and William (father) were living in three different households in Chester, Washington, NY. William was listed as a Baptist preacher until 1870 but is not found in published records after that time.
Rev. William Dickens born ca 1810 England [d. unknown]
Mary Nancy Cross born ca 1818 Tolland CT [d. unknown]
BROTHER:
Andrew Jay Dickens b 16 Apr 1845 IL d 4 Mar 1912 Hudson Falls NY
married Helen M. Jan 1866 (born Feb 1851 NY, died 24 Jan 1922 Hudson Falls, NY)
Andrew Jay Dickens and Helen M. married in Jan 1866. Andrew served in the Civil War. This couple had two children, with only one still alive by 1900. They had a grand-daughter, Ethel, who married a Mr. Carpenter and had five children. This couple had two children but could only find records of Charles:
Charles J. Dickens b 28 Sept 1870 d 17 Feb 1952 m [unk] – 2 children
[unknown child] b before 1900 d before 1900
OUR PASTOR:
Albert Webster Dickens b 20 Oct 1852 Comstock NY d 8 Nov 1926 Middlebury (Angina pretoria)
In June 1884, Albert Webster Dickens married Sara Smith (born 9 Nov 1864 in Argyle, NY). Parents of Sara are John Hayes Smith (born ca 1810) and Mary Cook (born ca 1818). There were no offspring.
In federal census records for 1900, Albert was listed as a minister. After 1900, Albert studied law for two years and then practiced law for the rest of his life. During his pastorate here he undoubtedly lived in our church parsonage at 1 South Pleasant Street. In 1910 and 1920, they were listed as living at 66 Court Street, Middlebury. Upon the death of Albert, Sara continued to live at 66 Court Street until her death on Mar 7 1953 of myocardial degeneration. Both were buried in the Middlebury (West) Cemetery.
Albert W. Dickens lived in Middlebury 34 years. Born in Comstock Landing, NY, the son of a Baptist clergyman, he graduated from Princeton in 1878, being a classmate of Woodrow Wilson, and from Union Theological Seminary three years later. He was married to Sara M. Smith of Argyle NY. He was called to Middlebury from an eight-year pastorate in Ticonderoga and was minister of the Congregational Church in Middlebury from 1893 to 1900. After two years of study he was admitted to the bar in 1902 and practiced law until his death. For eight years, he served as municipal judge, having received his first appointment from Governor Graham.
Sara Smith Dickens, wife of Albert W. Dickens, was born in Albany, NY, daughter of John Hayes and Mary Cook Smith who came to America from England in the early 1860s. Her childhood was spent in Argyle, NY. She graduated from the Argyle Academy and worked in the county clerk's office. After her marriage to Mr. Dickens, then a minister in the Argyle Church, they moved to Ticonderoga where Mr. Dickens was pastor in the Congregational Church. In 1893, they came to Middlebury where Mr. Dickens became pastor of the Congregational Church. Mrs. Dickens was a member of the Congregational Church for 60 years, a member of the Hawthorne Club and Women's Club, and maintained an interest in civic affairs.
Next month we will present the biography of Rev. Thomas Simms (and his family) who came to the Middlebury Church from South Manchester, NH, and left Middlebury for a pastorate in Braintree, MA.
Mal Chase, Historian
Eryn Diehl December 01

Robert Granner December 02

Deborah Evans December 05

Julia Morrissey December 05

Penelope Stattel December 06

Edward Williams December 08

Chas Lyons December 09

Betty Nuovo December 10

Kendra Tatkon-Kent December 12

David Deering December 13

Charles Swift December 13

William Fifield December 15

Eva Phair December 15

Oliver Poduschnick December 15

Piper Field December 18

Ellie Hendy December 18

Doreen Whitney December 18

Carol Campbell December 21

Stephen Hoffman December 24

Rebecca Orten December 26

Emma Morrissey. December 27

Clem Sheffert. December 27

James Donnelly December 28

Donna Carpenter December 30

Julie Tatkon December 30




Eliana Canas-Parra December 3

Michael & Chris Giorgio December 12

Bill & Gail Miller December 12

Jeff Buettner & Jessica Allen December 15

Polly Birdsall December 20

John McLeod & Blair Kloman December 22